Motorcycle transportation: drive or be driven?
Riding a motorcycle is fun – usually! But who, for example, wants to waste the first 500 holiday miles between Hamburg and Munich or stuck on monotonous motorways, before the alpine peaks you have been longing for eventually appear on the horizon? Here, we show you which alternatives you can use for transporting your motorcycle and what you have to be aware of in the process.
Transportation with your own vehicle
For the everyday rider there are really only two options for transporting your motorcycle yourself piggyback-style: in a van or on a trailer. Both have their advantages and disadvantages. Which are of more benefit for you depends on your personal requirements.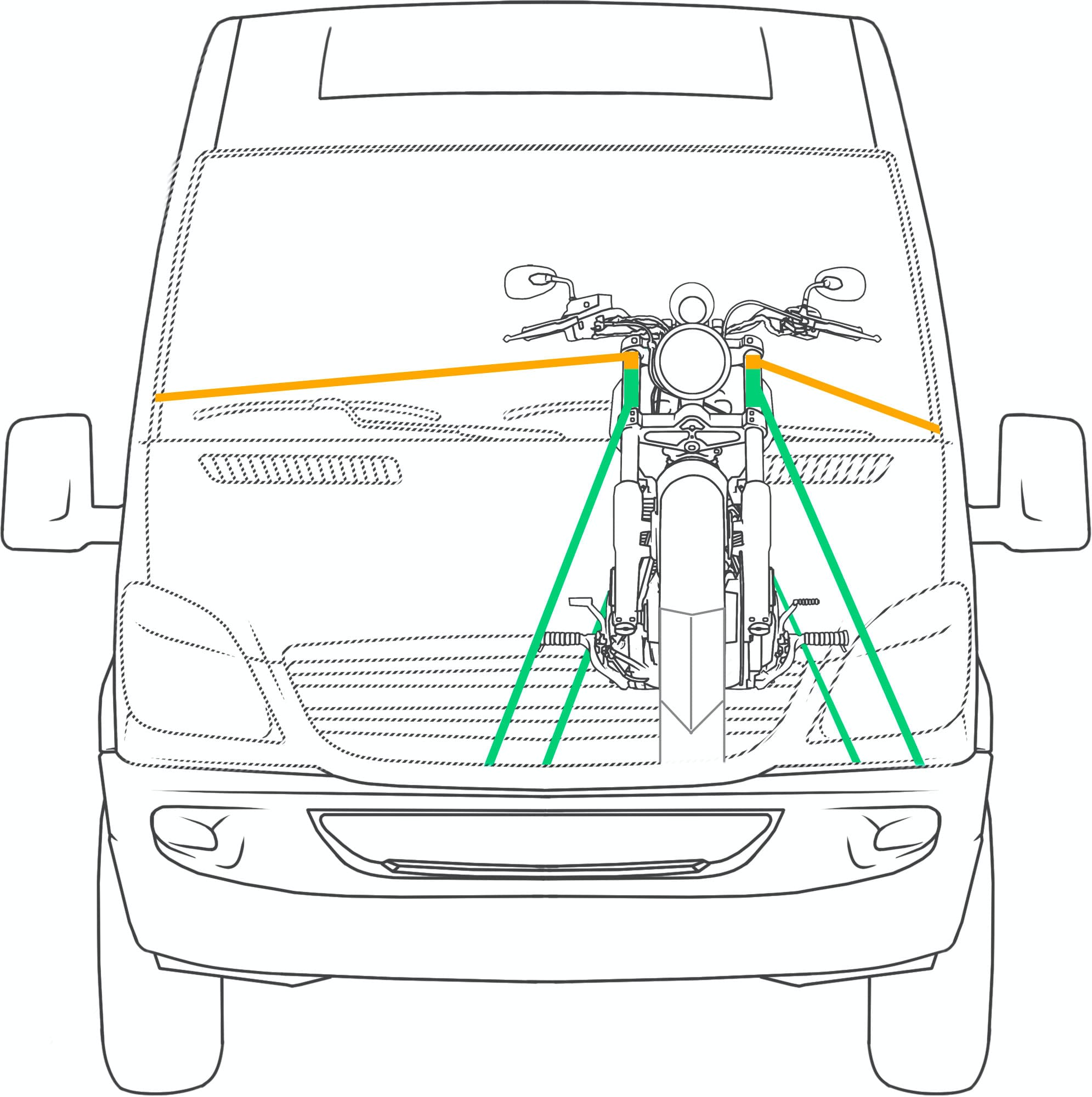 In a van
Buying a van specially really isn't worth it if you are only going to use it once a year for the holiday tour. However, if you do opt for a delivery truck or minivan, make sure the loading floor is long enough and the doorway is high enough – after all, your bike has to fit through there. If the dimensions aren't sufficient, you will have to take emergency measures, like removing the fairing windshield or the rearview mirror, for example. Make sure you have, or acquire the right travel tool kit. The relatively high floor may require an arched loading ramp so that the motorcycle isn't set down on its "belly".
Tip: Some car hire companies provide vans with special fittings.
• Up to 3.5 t permitted total mass, no speed restriction
• More responsive than a car/trailer combination
• Optimum weather and anti-theft protection
• High loading floor• The smell of petrol in the vehicle (if no partition fitted)
• Usually a narrow width (for two bikes)
• Expensive as a second vehicle
Lashing in the van
The loading space must always be fitted with stable lashing lugs (min. 4 per motorcycle) for the straps and firmly anchored front wheel supports. Lashing lugs in the vehicle floor are the best option because you can really pull your bike down into the suspension. Side lashing rails are used additionally to absorb lateral force.
---
On a trailer
Do you have a car with a tow bar? If so, you really are spoiled for choice. Trailers are available in various weight classes, sizes and configurations. As with most things, it's all about your needs. If you don't have a lot of space at home, a folding trailer would be the sensible choice. Easy loading is the speciality of tilting or lowerable trailers. On long journeys a trailer with a permit for speeds of 100 km/h will save time and nerves. In any case the trailer must be equipped with stable lashing lugs (min. 4 per motorcycle) for the straps and firmly anchored front wheel supports.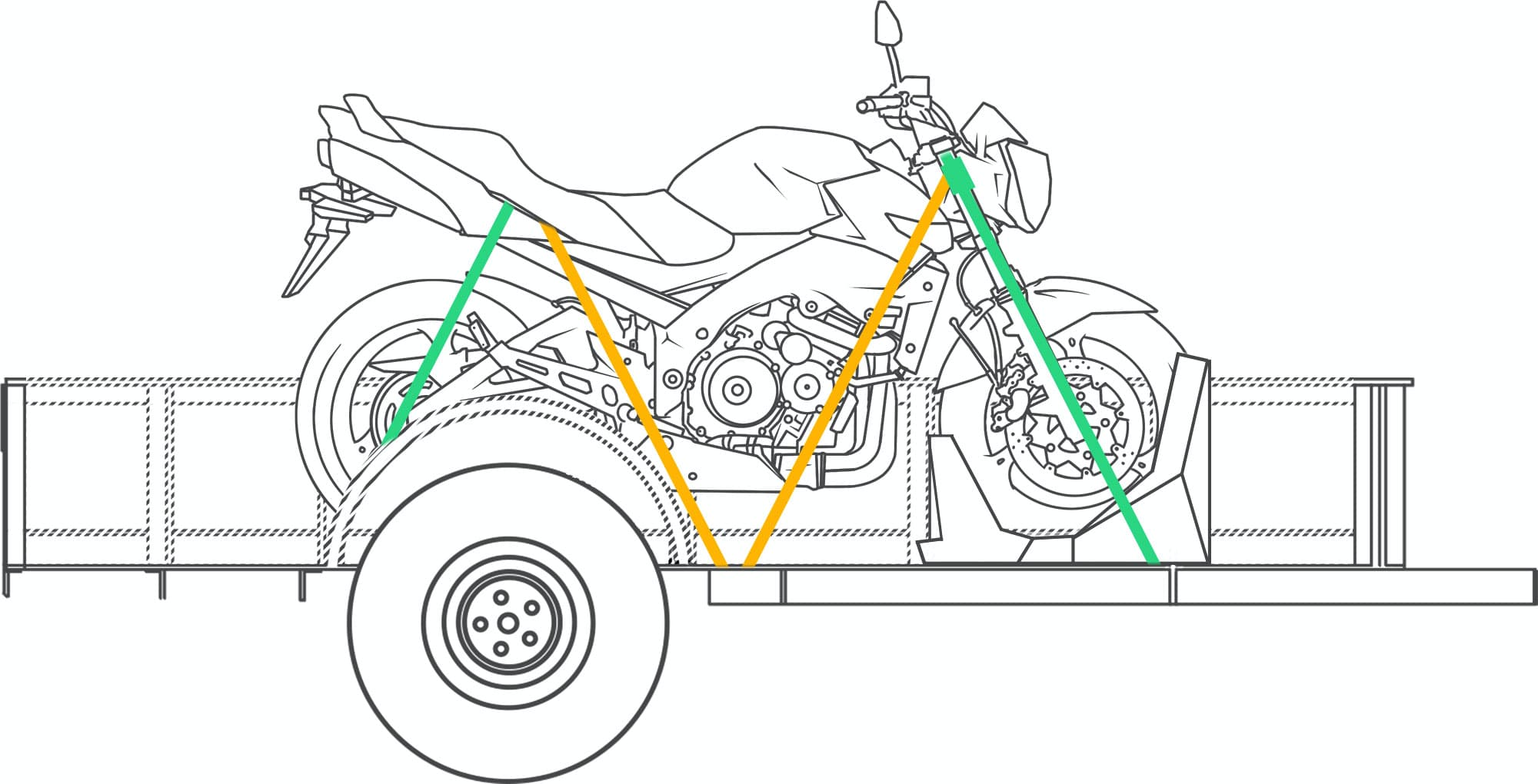 Lashing on a trailer
The motorcycle should stand on the trailer so that the permitted supporting load of the tow bar is utilised but not exceeded.
To stabilise lengthways, the front straps should pull to the front and the rear straps should pull to the rear.
If not otherwise possible, the pattern can be reversed. However, this makes lashing more difficult because you
are not pulling parallel to the suspension travel.
Tip 1:
Bear in mind that with a category B driving licence you can only drive car/trailer combinations with a permitted total mass of 3,500 kg.
Tip 2:
Manoeuvring with a trailer requires practice.Trailer training (e.g. with the ADAC) is therefore recommended for newcomers.
• Wide range of offers
• Low loading floor
• Motorcycles easily accessible from all sides
• A maximum of 100 km/h on the motorway, 80 km/h on other roads
• No weather protection with open construction
• Bikes require additional anti-theft protection
• Parking space required when not in use
Different countries have different speed limits:
you can see how fast you can drive with your trailer here:
---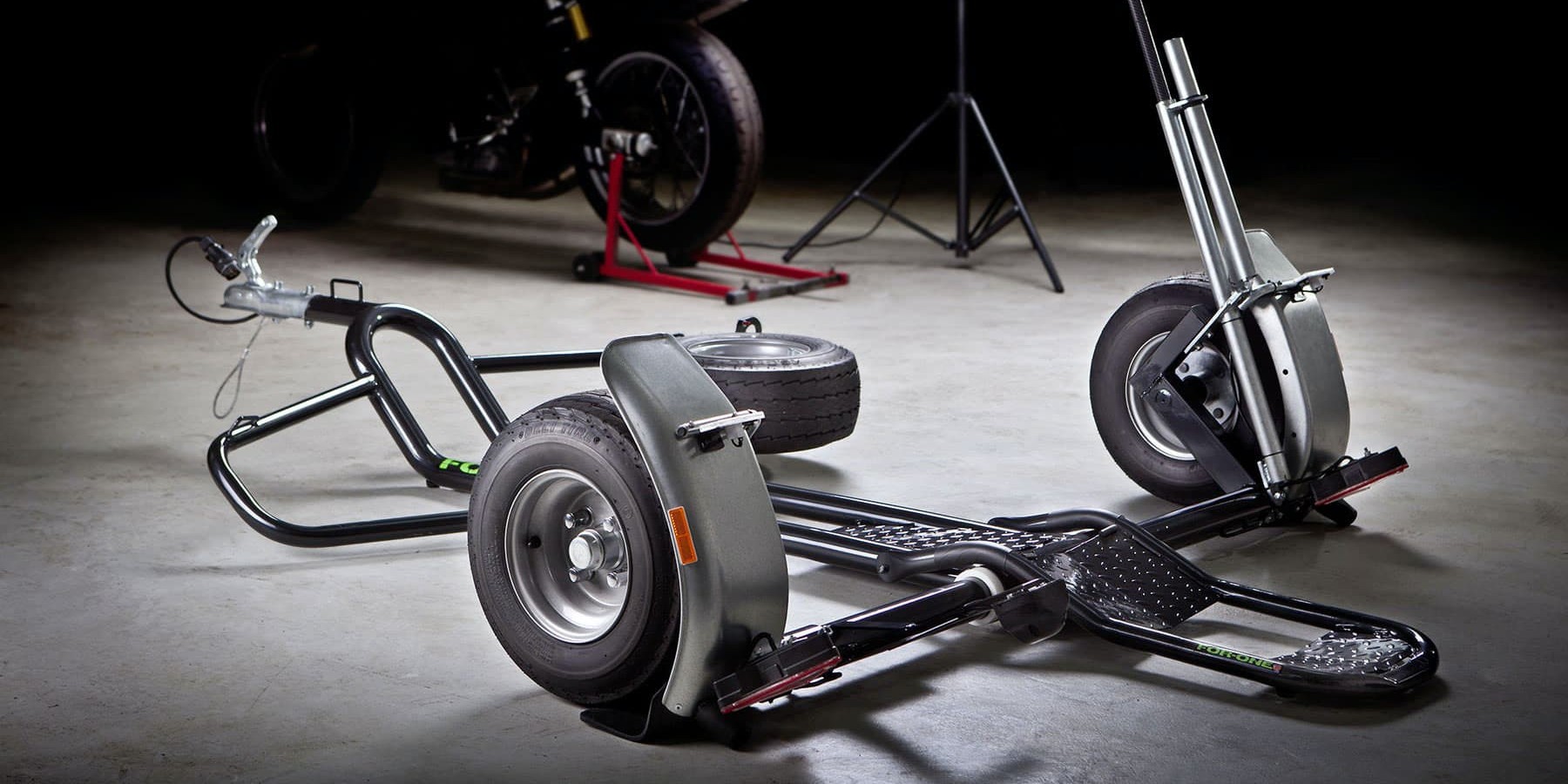 Your new bike trailer
The FOR-ONE motorcycle trailer is a real revolution in loading and stowage. Perfectly designed for transporting your motorbike. It's designed so you can load and unload your bike without any assistance. No loading ramp required.
---
Your partner for motorcycle transportation on the road
---
Everything on the subject of motorcycle transportation
---